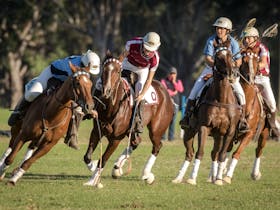 Barastoc Interstate Polocrosse Series and Shell Cup Carnival
Join 10000 spectators to thrill to the electrifying sport of polocrosse. Australia's top players are competing this May in Warwick in southern Queensland at the interstate championships.
Combining the strategy of netball, the toughness of rugby and the ball skills of lacrosse, polocrosse is an Australian-made sport where action, power, skill and pace dominate.
While the horses and riders show off their talents on the field, spectators get an up close and personal experience from the sidelines where they can literally smell the sweat on the horses and feel the thundering hooves reverberate through their bodies.
Polocrosse is king of the one-horse sports. Be there this May to live the action!
Program:
Friday
6.30am: Interstate breakfast Meet and Greet
9.30am: Interstate games
9.30am: Clubhouse cafe and bar open all day till late
5.30pm: Interstate games under lights
6.00pm: Meal AUD12
Saturday
6.30am: Clubhouse cafe opens
8.00am: Games begin
10.00am: Bar opens till late
6.00pm: Games under lights
6.00pm: Hot two-course meal AUD20
9.00pm: Evening entertainment
Sunday
6.30am: Clubhouse cafe opens
8.00am: Semi-finals and finals
No dogs are allowed on the grounds.
LOCATION:
Old Stanthorpe Road, Warwick
4370, QLD
https://southerndownsandgranitebelt.com.au/wp-content/uploads/2017/08/SDGB_Logo_Jacaranda_600x195.png
0
0
Visit Scenic Rim
https://southerndownsandgranitebelt.com.au/wp-content/uploads/2017/08/SDGB_Logo_Jacaranda_600x195.png
Visit Scenic Rim
2018-05-06 14:30:29
2018-05-06 14:30:29
Barastoc Interstate Polocrosse Series and Shell Cup Carnival