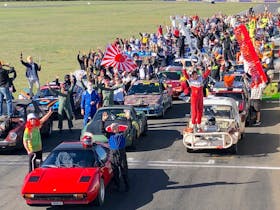 24 Hours of LEMONS Morgan Park Raceway 3-day event
24 Hours of LEMONS, the biggest & cheapest team motorsport event on the planet is heading to Morgan Park Raceway this year!! Break away from the real world, get your team of friends/family together and head to Morgan Park with your "lemon" for a unique, exhilarating experience!!!
Anybody who loves driving can enter – all genders, young or old, skilled or amateur, first-timers to experienced race drivers, those with a learner's licence to those with a professional racing licence, scholars, tradies, corporate professionals…….. If you love driving and having fun, we'd love to see you there!
24 Hours of LEMONS encourages camaraderie and mateship among drivers of all teams. Our motto is "Just Finish", advocating endurance, persistence and patience. Dress up to match your theme and drive your embellished "lemon" around the track for 24 hours. But "misbehave" or defy the rules or spirit of 24 Hours of LEMONS, and you'll have to partake in some fun penalties.
24 hours of lemons has a strong cause to help support breast- and prostate cancer research by fundraising for the Garvan Institute of Medical Research. We aim to raise around $10 000 through this event by holding raffles and accepting donations.
LOCATION:
228 Old Stanthorpe Road, Morgan Park
4370, QLD
https://southerndownsandgranitebelt.com.au/wp-content/uploads/2017/08/SDGB_Logo_Jacaranda_600x195.png
0
0
Visit Scenic Rim
https://southerndownsandgranitebelt.com.au/wp-content/uploads/2017/08/SDGB_Logo_Jacaranda_600x195.png
Visit Scenic Rim
2019-05-25 14:30:31
2019-05-25 14:30:31
24 Hours of LEMONS Morgan Park Raceway 3-day event