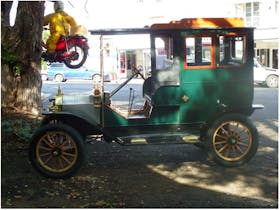 3rd Allora Autumn Festival
The Allora Autumn Festival is held on the last weekend of April in Allora. During the festival they hold markets to coincide with events that are held around their historic town.
Allora is home to Mary Poppins House, where Pamela Goff (PL Travers) grew up and Allora is also the final resting place for her father, Travers Robert Goff.
Events to attend:-
28 and 29 April – Street Markets, vintage vehicles, Artisan stalls, local producers stalls, tours of Mary Poppins House, Heritage Museum, Sports Museum, heritage tours of the Allora, Breakfast Barbecue, and more.
29 April – 'Dinner of Drayton' dinning under the stars on the Saturday night in the streets, where they showcase local produce and products. Tickets are limited to 100. Booking details will be available on their website.
*some events are free to enter and some will require a purchase of tickets (Dinner on Drayton, etc) More information about costings will be found on their website closer to the event date.
LOCATION:
Herbert Street, Allora
4362, QLD
https://southerndownsandgranitebelt.com.au/wp-content/uploads/2017/08/SDGB_Logo_Jacaranda_600x195.png
0
0
Visit Scenic Rim
https://southerndownsandgranitebelt.com.au/wp-content/uploads/2017/08/SDGB_Logo_Jacaranda_600x195.png
Visit Scenic Rim
2017-12-25 13:30:13
2017-12-25 13:30:13
3rd Allora Autumn Festival