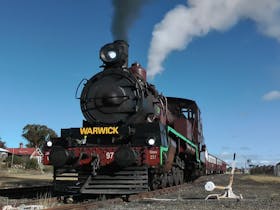 Wallangarra Return
Depart Warwick Station at 8am for a leisurely day on the heritage train to Wallangarra. A delightful stop at the Stanthorpe Station for a 30 minutes. They continue into Wallangarra where they will make a stop at 12.10pm for lunch.
Train departure from Wallangarra is at 2.10pm for a leisurely heritage train trip back to Warwick at 6pm.
Please plan to arrive at the Warwick Railway Station, Brosnan Crescent, Warwick at lease 30 minutes before departure. Please also bring along a copy of your email issued ticket for all family members.
Optional Lunch:
Winery and Meal. 5 wineries in 5 hours. Wine tasting, food, bus trip and great company.
Please note…
SDSR makes every endeavour to ensure that tours operate as advertised. Unfortunately, this may not always be possible owing to unforeseen circumstances. However, any changes made will only be after they have exhausted all reasonable efforts to provide the tour as advertised. Where steam is unavailable, SDSR will replace it with the Heritage Diesel Locomotive.
Some services may cancel at short notice.
LOCATION:
Brosnan Crescent, Warwick
4370, QLD
https://southerndownsandgranitebelt.com.au/wp-content/uploads/2017/08/SDGB_Logo_Jacaranda_600x195.png
0
0
Visit Scenic Rim
https://southerndownsandgranitebelt.com.au/wp-content/uploads/2017/08/SDGB_Logo_Jacaranda_600x195.png
Visit Scenic Rim
2020-06-18 14:30:41
2020-06-18 14:30:41
Wallangarra Return